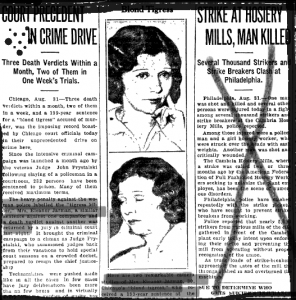 August 1933 was a bad time to be on trial in Chicago.
Following the shooting death of a policeman in a Cook County courtroom, the county's chief judge, the Hon. John Prystalski, decided to vent his anger on the defendants who appeared in the dock. Prystalski ordered his fellow judges back from their summer vacations and they began to work their way through the court's crowded docket with ruthless efficiency.
During the month of August, 232 defendants received long jail terms and two cop killers in unrelated cases were sentenced to death in one week. A third man was condemned later that month.
"Technicalities were pushed aside," wrote The Edwardsville (Ill.) Intelligencer during the almost-unprecedented sessions. "In few cases have jury deliberations been more than a few hours, and in virtually every trial a guilty verdict has been returned."
At the end of the month came the climactic trial that ended with a death sentence for one man and 199-year sentences for his two accomplices for the murder of a Chicago haberdasher.
In a city where traditional law enforcement had nearly broken down, the murder of 71-year-old Gustav Hoeh stood out only because one of the three defendants on trial had been dubbed "The Blonde Tigress" by the press.
The Blonde Tigress was 30-year-old Eleanor Jarman, described as "cold as a block of ice" by police. She picked up her moniker because she was a vicious armed robber who traveled with a blackjack and revolver in her purse and was unafraid to use either.
Although Jarman appeared in contemporary news accounts to be an attractive, petite young woman, her victims said there was nothing gentle about her. According to the popular press at the time, Jarman was fond of pounding her victims on the head with either her blackjack or the butt of a pistol.
But violent women are nothing new. What makes Jarman's story even more interesting is the fact that she escaped from the Joliet reformatory for women in 1940 and has not been heard from since. Born in the first decade of the 20th century, it's extremely unlikely that Jarman is still alive, despite coming from a family that reportedly has a reputation for being long-lived.
Where she went and what ever became of Eleanor Jarman remains a mystery.
The saga of the Blonde Tigress began earlier in August 1933 when Jarman, her lover George Dale, and a third man, Leo Minneci, were headed to a Chicago Cubs game and decided to stop off on the way to rob Hoeh's clothing store. The robbery went bad and Dale shot Hoeh.
According to testimony, while Hoeh lay dying, Jarman kicked him in the face. Arrested shortly after the murder, the trio denied planning to kill Hoeh, and Jarman asserted in her brief trial that she was completely unaware that Dale and Minneci were going to rob Hoeh's store. Dale, however, said Jarman carried the murder weapon in her oversized purse.
While Jarman and her cohorts waited for their day in court, a parade of hold-up victims passed through their cellblocks and more than 50 identified the Blonde Tigress as robbing them.
She testified there were so many robberies that no particular hold-up stood out in her memory.
"It was fun and it was an easy way to get swell clothes and anything you wanted," she told the jury at her trial.
Jarman came to Chicago from Sioux City, Iowa, after leaving her husband of six years whom she said was a "drunken lout." She took her two children to Chicago where she ran a "beer flat" until beer was legalized as Prohibition was relaxed. With Dale and Minneci, she began to take up armed robbery.
At trial, Jarman's only defense was that she didn't know her companions planned the robbery of Hoeh's store and that she didn't fire the fatal shots. Her story was that she was elsewhere in the store — looking at neckties — when Dale shot Hoeh. Other testimony at the trial contradicts this, however. She was reportedly beating and "clawing" Hoeh when he was struck by the bullet and kicked him while he was down.
With so many victims willing to testify that the trio was responsible for sticking them up, it's unlikely that Jarman didn't know what Dale and Minneci were going to do when they entered that store.
In the swift justice of Chicago, Jarman was quickly convicted and the court sentenced her to a 199-year prison term. She was the first woman in Illinois to receive such a long sentence. The 199-year term was given to ensure that Jarman never get parole. Under state law at the time, prisoners were eligible for parole after serving one-third of their sentence. With a nearly sentence nearly 2 centuries long, she would not have been even eligible for release until she was 95 years old.
Minneci also received a 199-year term, but served a term of around 20 years before being released in the 1950s. Dale was sentenced to death and died in the electric chair April 20, 1934. One of Dale's last acts was to write a love letter to Jarmon.
Jarmon was serving her term in Joliet and was known as "an industrious, obedient, and model woman in almost every respect," according to warden Helen Hazard when she and another stick up artist, Mary Foster, disappeared from a cottage on prison grounds. Foster, a bank robber, was serving a 1-to-10 year stretch and was located in Massachusetts a few months later.
The pair had been scrubbing floors when they jimmied the cottage lock, stole dresses from the closet (the cabin belonged to a staff member) and scaled a 10-foot fence around the reformatory. They had a one-hour head start on jailers and Jarman hasn't been seen since.
Actually, that's not quite accurate. Over the years some people learned her real identity — mostly family members — and they protected her from authorities. Generally, they believed her claims that she was innocent of Hoeh's murder.
"Jarman has served 7 years in jail for being with the wrong people at the wrong time," her grandchildren wrote in a 1993 clemency petition to Gov. Jim Edgar. "She is and will in whatever time remains for her be an remain a good and completely rehabilitated citizen."
Survivors of Gustav Hoeh, however, were unconvinced.
"In one respect I could understand their feeling," said Hoeh's grandson, Kenneth Hoeh. "I just as soon they leave alone what was left forgotten."
Another grandson was equally unsympathetic.
"It was a vicious crime. As I understand the details, she played an active part," Dan Hoeh told The Chicago Tribune. "Even if it had been a minor role, she would get no mercy from me."
After his father, LeRoy died in 1993, her grandson, Doug Jarman, began a campaign to clear his grandmother's name.
In numerous interviews, he said that a letter she sent during her incarceration, as well as conversations with people who knew her before her arrest, convinced him that she was innocent.
"'I'm going to be here the rest of my life. I'm never going to be with you,'" Doug Jarman quoted her as writing. "'I always want you to know that I was innocent.'"
Shortly after her escape, according to a Jarman family legend, she appeared in Sioux City where her two sons, LaVerne and LeRoy, were living. She had received a letter days before that her sons were threatening to run away from their custodians. According to Hazard that was the reason she escaped.
After telling her boys to behave, she disappeared for 35 years, communicating through classified ads, but apparently "afraid of rejection" by her family. In 1975 she arranged for a meeting with her brother, Otto Berendt, and they went to a lake outside Sioux City to talk.
"She was relaxed and looked pretty good," Berendt's widow told The Chicago Tribune in 1993. "All she wanted to know was if her boys were OK. We told her they were grown men and doing good for themselves."
LeRoy, who also saw his mother that night, pleaded with her to surface and straighten out her situation. To do so would have required her to return to Illinois, which she apparently declined to do despite her assumption that police had stopped looking for her years before.
By the mid-1990s, contact with Jarman through the newspapers tapered off and Doug Jarman began to attempt to locate his grandmother in Midwest nursing homes. However, patient privacy rules made that extremely difficult.
Publicly, her fate remains a mystery.