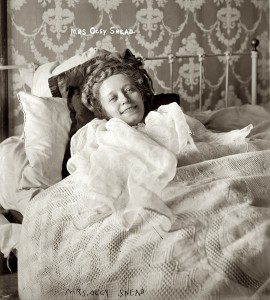 The Wardlaw family was always a bit off, people said. It was an old family, steeped in tradition, with roots going back well into the early years of America and by some accounts all the way back to the Norman conquest of England in 1066. One of the family scions was a South Carolina jurist, another was a well-known minister and his daughter was the wife of a Confederate officer who had declined to take an oath of allegience to the republic after the war.
But by the turn of the 20th century, the Wardlaws were a proud Tennessee family that had, quite frankly, seen better days. Financially, the family had never quite bounced back from the economic downturn caused by the Civil War, and the emotional cost of the war had also taken its toll on the clan.
Oddest of all were the three sisters, Caroline, Virginia, and Mary. Born at the tail of the family's greatness, they could only dream of their family's former days of glory. Virginia was the oldest sister, Caroline Wardlaw Martin the middle, and Mary Wardlaw Snead was the youngest.
Strange deaths surrounded the women. The first occurred when Caroline's son died either from mistreatment during a bout of meningitis, or possibly from a fall down the stairs. With the $22,000 the family received in an insurance settlement, Caroline, her husband, and their daughter, Ocey, moved to Manhattan.
Shortly after, Caroline's husband died under equally mysterious circumstances. When neighbors heard a crash and went to investigate, they found Caroline sitting above her husband's unconscious body, and young Ocey weeping nearby. When Ocey tried to say something to the investigating neighbors, her mother silenced her with a severe look and a single word: "Remember," according to author Gini Graham Scott.
Caroline and Ocey moved back to Tennessee where they lived with Virginia, who was then the headmistress of a local women's college. Mary also moved in with her sisters.
At the college the Wardlaw sisters began dressing only in black and wore heavy veils over their faces.
"They were known for walking the halls of Soule Female College with increasing eccentricity, sometimes chanting, until money problems forced Virginia to resign," Scott wrote.
From Tennessee, the women moved to Virginia, where Caroline served as principal of a school. In Virginia, Mary's son John — also heavily insured — died when his pajamas caught fire. Shortly before he died, he had changed the beneficiary on his life insurance from his ill wife to his Aunt Virginia.
By this time Ocey Martin had married Mary Snead's son Fletcher. The two first cousins had grown up together and "had naturally formed a mutual affection which led to their marriage," Virginia said later.
In 1908, when Caroline was dismissed as school principal in Virginia, the three sisters and Ocey Snead moved to New York. Fletcher Snead left his pregnant wife and young daughter with his mother and aunts and went to St. Catherine, Ontario, in search of work.
In New York the three sisters set about murdering the 24-year-old Ocey, who carried some $30,000 in life insurance (which had the equivalent spending power of more than $600,000 in 2007).
While Mary Snead carried for the sisters' elderly mother in Manhattan, Virginia, Caroline and Ocey took an apartment in Brooklyn. There, Ocey's health began to fail.
Dr. William Pettit was called in to look at the sickly pregnant woman. He found her suffering from depression, "general weakness," and malnutrition. Ocey had recently learned from her mother that Fletcher Snead had died while looking for work in Canada. In fact, Fletcher was alive and well and in contact with his mother and aunts.
"She seemed depressed and indeed afraid of those about her," he told police later.
Dr. Pettit visited the Wardlaw household several times and each time found that his instructions for Ocey's care were not being followed. Because the sisters were not cooperating, nor were thay paying him, he stopped visiting.
Several months after Dr. Pettit ceased treating Ocey, he was once again summoned to the Brooklyn flat. There he found Ocey depressed, even weaker, and no longer pregnant. The baby, named David, had been taken to a hospital, where he was in poor health.
Virginia told the doctor that he should break the news to Ocey that she was dying and that the time had come for her to make a will.
Instead, Dr. Pettit ordered that a nurse be brought in to care for Ocey. The nurse stayed just one day before being put out by the Wardlaw sisters. Rather than pay the $100 bill presented by the doctor, the Wardlaw sisters offered to make him a $1,000 beneficiary in Ocey's will. He declined and decided to take steps against the family, believing that Ocey was "under some hypnotic influence."
What he did not know was that Ocey was being given regular but unecessary doses of morphine for her post-partum pain. Her mother and aunts were deliberately turning her into a junkie. At the same time, her 2-year-old daughter had been removed from the home to foster care. Ocey was later told she had died. Her fate, in fact, remains a mystery to this day.
When Dr. Pettit returned to the Brooklyn apartment to check on his patient before he reported the strange case to police, he found the place abandoned and the weird sisters gone.
They next surfaced in another Brooklyn neighborhood in September 1909, when Virginia Wardlaw, wearing a thick layer of black veils, visited Julius Carabba, a New York attorney, and asked him to help a dying woman prepare a will.
Carabba came to Ocey's bedside while her mother and aunts chanted prayers over her. After the prayers, Virginia asked Ocey if she wanted to make a new will. Ocey agreed.
Carabba told the women that Ocey needed a doctor and some food. The Wardlaw sisters said they could afford neither. He offered to write them a check and while the sisters left the room in search of a pen, Carabba talked to Ocey.
"I'm dying," she told him, while she reached under her pillow. "Here is my will. Take this and make yourself executor."
Ocey's will left everything to her grandmother. The Wardlaw sisters offered Carabba $7,000 to make them the beneficiaries — Mother Wardlaw was too old, they said.
Carabba refused and the sisters dropped him as their attorney.
In October 1909, Virginia Wardlaw was served as defendant in a lawsuit for nonpayment of the price of a new piano. Her response to the plaintiff was "wait everything until we bury our dead."
Time was running out for Ocey. Near death from lack of food and medical care, she was moved to East Orange, New Jersey. The East Orange apartment was simply a warehouse for storage of Ocey until she could be converted into cash. There was no heat or gas for cooking and the place was furnished with just two cots, a rug, a chair, and a barrel for a table.
On November 28, 1909, Caroline Wardlaw Martin came to the house where Ocey lay dying and gave her daughter a dose of morphine. Then she suggested that her daughter take a bath.
At 4 p.m. Monday, November 29, 1909, Virginia Wardlaw rang up the East Orange police and requested that a coroner be sent to the apartment, where a young woman had apparently committed suicide in a bathtub.
When Dr. H.M. Simmons, the police surgeon, arrived at the house he was admitted by Virgina, who led him to a small tub where a skeletal Ocey lay with her head between her knees in about a foot of cold water.
Attached to her clothes was a note:
Last year my little daughter daughter died. Other near and dear ones have gone before. I want to join them in heaven. I have been prostrated with illness for a long time. When you read this I will have committed suicide. Do not grieve for me, rejoice with me that death brings a blessed relief from pain and suffering greater than I can bear.
Ocey W.M. Snead.
When Simmons questioned Virginia she told him that Ocey had never fully recovered from the birth of her daughter, and when her son was born the previous summer, the stress of the pregnancy had all but finished her off.
The doctor examined Ocey's watersoaked, pale corpse and questioned Virginia about her claim that Ocey had died earlier that day. The condition of the body made that impossible, Simmons claimed.
Virginia revised her story: It may have been yesterday, she claimed, that she warmed the water for Ocey's bath. Nevertheless, she had not discovered the "suicide" until that afternoon. Although she admitted that she had been in the flat all day previous, she could not explain why she had no reason to venture upstairs at all — even to use the only bathroom.
Virginia was taken to police headquarters because regardless of any other criminal act she may have committed, she did inexplicably fail to report a strange death for at least 24 hours.
Searching the East Orange apartment the police found numerous insurance policies taken out on Ocey Snead. They also located a New Jersey doctor who had examined Ocey within the last two weeks. Dr. Charles H. Teeter, however, could shed little light on the case. He did lead police to Dr. Pettit of Brooklyn, who told authorities what he knew. From there, the New York and New Jersey authorities tracked down Mary Snead, who was caring for her elderly mother.
Meanwhile the medical examiner released the preliminary results of his autopsy. "Ocey Snead had, whether well or ill, been nearly starved to death in any case," he reported. A handwriting expert opined that the text of the note had been written by one pen and signed with another.
Wilbur Mott, the Essex County Prosecutor ordered that Virginia Wardlaw be held on an open murder charge. During Virginia's arraignment, she adamantly refused to lift her heavy black veils, only doing so under threat by the arraigning judge. Mary Snead was arrested shortly after and jailed in the Tombs until she waived extradition and was sent to New Jersey.
Finally, Caroline Martin was found in a New York hotel, registered under the name "Mrs. Lyding of Pennsylvania." It turns out that she was employed as a New York City Schools principal, but was in the process of being terminated due to "mental incapacitation."
In the room, police found more insurance policies and nearly 100 "suicide notes," each similar to the one found pinned to Ocey's clothing.
The handwriting expert examined them and found that they had been written by Ocey while she was under the influence of morphine and at the suggestion of Caroline Martin.
Caroline quickly took control of the sisters' situation. She appeared to have some sort of "hypnotic" power over her siblings, jailers reported.
"Why she can even make us keepers do almost anything she wants us to do," one told reporters eager for the tiniest morsel of news about the bizarre case.
Delays kept the sisters in jail and the case fell off the front pages of the papers until August 12, 1910, when it returned with gusto.
Virginia Wardlaw had apparently starved herself to death in her Essex County jail cell. She had been secreting her food in her cell, sharing it with other inmates, and feeding rats.
"Miss Wardlaw brooded much, and seemed to be worrying over the plight of her sisters," one newspaper wrote. "She bore the brunt of the murder case, and from the first her attitude was one of protection for her sisters."
When Virginia died the case against Mary Snead essentially collapsed and the one against Caroline Martin was significantly weakened, Prosecutor Mott said.
In January 1911, after a lengthy sanity examination where she often flew into rages, Caroline Martin accepted a plea deal that required her to plead no contest to manslaughter. She had expected a short jail term and was incensed when she received a seven-year term.
"I am innocent. I never injured my daughter or anyone else, living or dead," she told the judge. "I am as innocent in the sight of God as your are, Judge Ten Eycke."
"Caroline arrived at the iron gates in her black veil, dress, gloves and cape," Scott wrote. "Although Caroline had nothing more to gain from a show of insanity, she suffered attacks of stupor followed by hysterical outbursts while she was in prison."
She was moved to the state hospital for the insane where she died in June 1913.
In 1930, Mary Snead was thrust back into the limelight for 15 minutes when $500 worth of diamonds were found in a Murfreesboro, Tenn., bank vault and were identified as the property of Virginia Wardlaw. As her sister's only surviving heir, the diamonds were given to Mary.
Contacted by journalist Nancy Barr Mavity of the Oakland Tribune — one of America's best (but nearly unknown) crime reporters ever — Mary gave a long account of Ocey Snead's death.
"My sister Virginia was an angel on earth," Mary Snead said. "The bare truth is that Mrs. Martin had been insane for years. She should have been put away years before. But Virginia thought she could care for her. We were a proud and distinguished family and you know how one tries to keep such family misfortunes quiet.
"I do not call Ocey Snead's drowning a murder," she continued. "I was away at the time, and the only person who could tell exactly what happened that terrible day is dead. But the deeds of an insane person cannot be called murder."